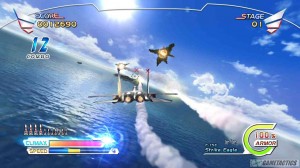 After Burner Climax is available today for download on Xbox LIVE Arcade for the Xbox 360 video game and entertainment system from Microsoft and on PlayStation Store for the PlayStation 3 computer entertainment system on April 22nd.
Get ready to break the sound barrier with licensed planes from Boeing and North Grumman Systems Corporation. Select your aircraft from the F-14D Super Tomcat by Northrop Grumman to the F-15E Strike Eagle and F/A-18E Super Hornet by Boeing and personalize your plane with a selection of 4 different skins including: standard paint, camouflage, special paint and low visibility.
The arcade classic returns with over 20 stages to blast your way through while dodging enemy fire and a branching path that will surely keep your adrenaline pumping! Compare your skills with others with online leader boards. Do you have what it takes?
Don't forget to download premium themes available on Xbox Live Arcade and PlayStationStore for After Burner Climax! There are also Avatar awards and Icons found only on Xbox Live Arcade when you complete the game in different modes.
The game is available on Xbox LIVE Arcade for 800 pts and on PlayStationStore for $9.99.
For more information, please visit http://www.sega.com/games/after-burner-climax/.