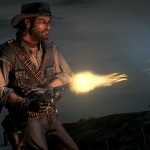 All you cowboys and cowgirls out there take note that Rockstar Games has released Red Dead Redemption for the PlayStation 3 and Xbox 360 in North America. Get an outlaw living in the last days of the Wild West in this game with your character John Marston.
Rockstar Games, a publishing label of Take-Two Interactive Software, Inc. is proud to announce the highly anticipated Red Dead Redemption is now available at retail stores in North America for the Xbox 360 video game and entertainment system from Microsoft and the PlayStation 3 computer entertainment system.
"We wanted to bring our vision of the American West to life," said Sam Houser, Founder of Rockstar Games. "With Red Dead Redemption, we tried to make players actually feel like they are an outlaw living in the last days of the Wild West."
Developed by Rockstar San Diego, Red Dead Redemption is a dark and epic story set against the dying years of the American West, as former outlaw John Marston is sent back across the frontier to track down the members of his former gang in a world where survival is a constant struggle. Red Dead Redemption's single-player story takes players across the American frontier; down into Mexico, up into the mountains and northeast to the Great Plains, while the multiplayer experience offers a unique Free Roam mode for 16 players to form posses and explore the entire world, alongside Western variations on classic multiplayer competitive modes. Future downloadable content will include six co-operative missions available for free this June via Xbox LIVE and PlayStation Network. Red Dead Redemption's original soundtrack is available now on the iTunes store.
Red Dead Redemption for the Xbox 360 and PlayStation 3 is rated M for Mature by the ESRB, and is currently available for the suggested retail price of $59.99. Red Dead Redemption will release in Europe, Australia and Asia Pacific on May 21, 2010 and Japan in September 2010.