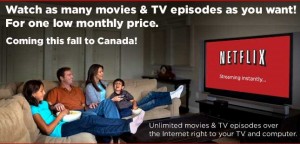 Netflix has sent word today that they will be launching a Streaming Only service of Netflix to Canada later this year. While no platforms were mentioned in the press release, we wonder which video game consoles it will be on. Most likely the Xbox 360 as there is already Netflix in the United States for that and Windows PC. The only oddity we found was the service will only be available in English at first, but that shouldn't be a problem since you wouldn't want to watch the latest action flick dubbed in French would you?
Netflix, Inc. the leading Internet movie subscription service, today announced it will expand into Canada this fall offering unlimited movies and TV episodes streamed instantly to TVs and computers for one low monthly fee. The Canadian launch will mark the first availability of Netflix outside the United States.
Canadian Netflix members will be able to instantly watch a broad array of movies and TV episodes right on their TVs via a range of consumer electronics devices capable of streaming from Netflix, as well as watching on PCs and Macs.
In addition to representing its inaugural international market, Canada will also mark the first streaming-only service promoted by Netflix.
At the time of launch, the Netflix Canadian service will be available in English only, but the company said it expects to add French language capability over time.
Canadians interested in Netflix can go to www.netflix.ca and sign up to receive an email from the company when the service launches in Canada this fall.