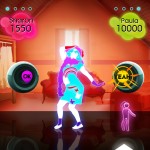 Today Ubisoft announced the full tracklist of its highly anticipated game Just Dance 2. After the massive success of the first installment, which has sold more than three million units to date, Just Dance returns with a hot new track-list of more than 40 popular songs, with each track featuring its own choreography.
The track list for Just Dance 2 offers a wide range of songs from legendary dance hits to today's chart-toppers, including Donna Summer's Hot Stuff, Blondie Call Me, Rihanna's S.O.S., When I Grow Up by the Pussycat Dollsand many other famous songs to get the party started! In addition to favorite pop, Hip-Hop and rock songs, Just Dance 2 also explores new music styles such as Bollywood music or reggaeton. And for those who still want more, they will be able to download tracks from an expanding catalogue of new hits.
Tracks available in Just Dance 2 are:
1. Avril Lavigne – "Girlfriend"
2. Bangles – "Walk Like An Egyptian"
3. Beastie Boys – "Body Movin' (Fatboy Slim Remix)"
4. Benny Benassi presents "The Biz" – "Satisfaction"
5. Blondie – "Call Me"
6. Bollywood – "Katti Kalandal"
7. Boney M. – "Rasputin"
8. Charleston – "Mugsy Baloney"
9. Cher – "The Shoop Shoop Song (It's In His Kiss)"
10. Digitalism – "Idealistic"
11. Donna Summer– "Hot Stuff"
12. Elvis Presley – "Viva Las Vegas"
13. Fatboy Slim – "Rockafeller Skank"
14. Franz Ferdinand – "Take Me Out"
15. Harry Belafonte – "Jump In The Line"
16. Ike & Tina Turner – "Proud Mary"
17. James Brown– "I Got You (I Feel Good)"
18. Jamiroquai – "Cosmic Girl"
19. Junior Senior – "Move Your Feet"
20. Justice – "D.A.N.C.E."
21. Ke$ha – "TiKToK"
22. Mardi Gras – "Iko Iko"
23. Marine Band – "Sway (Quien Sera)"
24. MIKA – "Big Girl (You Are Beautiful)"
25. Outkast – "Hey Ya!"
26. Quincy Jones & His Orchestra – "Soul Bossa Nova"
27. Reggaeton – "Baby Girl"
28. Rihanna – "S.O.S."
29. Snap! – "The Power"
30. Sorcerer – "Dagomba"
31. Studio Allstars – "Jump"
32. Studio Musicians – "Crazy In Love"
33. Studio Musicians – "Jungle Boogie"
34. Supergrass – "Alright"
35. The Frighteners – "Monster Mash"
36. The Hit Crew – "Holiday"
37. The Hit Crew – "Toxic"
38. The Jackson 5 – "I Want You Back"
39. The Pussycat Dolls – "When I Grow Up"
40. The Rolling Stones – "Sympathy For The Devil (Fatboy Slim Remix)"
41. The Ting Tings – "That's Not My Name"
42. The Weather Girls – "It's Raining Men"
43. Vampire Weekend – "A-Punk"
44. Wham! – "Wake Me Up Before You Go Go"
Added to the "Classic" mode in which you can just dance on the tracks and hit the core, Just Dance 2 also boasts new modes. Thus, players will now be able to create their own team and engage in dance-off contests with up to 8 players. In the Duet Mode, each player will follow a different choreography mixing dance steps and poses that will respond to the choreography of the other. An added benefit is the new Just Sweat mode where players will lose calories shaking their bodies on their favorite songs.
Just Dance 2 will be released exclusively on the Wii™ system from Nintendo on October 12, 2010 in North America and October 14, 2010 in EMEA territories.