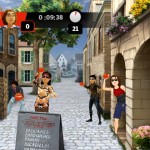 Ubisoft sends word that they are developing a new video game based on reality television show The Amazing Race. Of course, the game will feature the host Phil Keoghan and will be released in North America on October 26th 2010. Ubisoft sent along some screenshots of the game for you to check out.
Today Ubisoft and Ludia Inc., under a license from CBS Consumer Products, announced an all-new video game based on the smash reality television show The Amazing Race for the Nintendo Wii™. Now players can participate in one of the most exciting reality games ever and compete against friends to win the ultimate challenge. The Amazing Race will be available at retailers in North America on October 26, 2010.
"Ubisoft is thrilled to be bringing The Amazing Race to fans of the game show and new players alike so that they can participate in the excitement of the show anytime they want," said Adam Novickas, U.S. director of marketing at Ubisoft.
Just like in the TV show, in The Amazing Race video game players will be tasked with using clues to overcome various challenges as they make their way through exotic locations all across the globe. The Amazing Race TV show host Phil Keoghan is featured in the game and greets players at every pit stop to read the clues, introduce challenges and give away prizes to players.
"I'm very happy that we can make everyone feel like extraordinary travelers and athletes while playing the game. I'm excited that kids and families will be able to experience the thrill of the race while competing and feel certain they will understand just how fun it is to actually compete in The Amazing Race," said Phil Keoghan, host of The Amazing Race.
The Amazing Race has been a smash reality television game show hit since 2001 and has won the Emmy Award for Outstanding Reality-Competition Program seven straight times since the category was created in 2003.