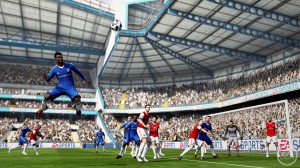 Electronic Arts Inc. announced today that a fully playable demo of EA SPORTS FIFA Soccer 11 is available to download beginning today for the PlayStation 3 computer entertainment system at the PLAYSTATION Store, for the Xbox 360 videogame and entertainment system by Xbox Live Gold Members from Xbox Live Marketplace, and for PC at WWW.FIFA.EASPORTS.COM. Xbox Live Silver Members will have access to the demo from Sept. 23.
Play as Chelsea, Barcelona, Real Madrid, Juventus, Bayer Leverkusen and Olympique Lyonnais and experience how FIFA Soccer 11 reinvents player authenticity–on and off the ball–with all-new Personality+. Individual abilities are now reflected in-game, allowing clear differentiation for every player on the pitch. Plus, experience true freedom in man-to-man interactions with 360° Fight for Possession that transforms physical play from lateral jostling to full 360° collisions and new Pro Passing, where pass accuracy is determined by a gamer's ability on the control pad, and player skill, situation and urgency on the pitch. The FIFA Soccer 11 demo features an exhibition match with 3 minute halves in Real Madrid's home stadium, Estadio Santiago Bernabeu, and users will be able to upload created in-game videos to EA SPORTS Football World. Fans who go to Facebook to play EA SPORTS FIFA Superstars and complete achievements will receive exclusive access to Arsenal and Emirates Stadium to play in the FIFA Soccer 11 demo.
EA SPORTS today also unveiled its global lineup of international stars that will adorn FIFA Soccer 11 packaging and be integrated into marketing and advertising campaigns around the world. FIFA Soccer 11 will be localized into 18 languages and available in 51 countries. Led by the 28-year-old Brazilian, Kaka, the 17 global superstars hail from 15 countries, represent 14 different teams and play in 9 international leagues, an ideal match for the World's best-selling* sports videogame. With 2 FIFA World Cup™ titles, 5 Champions League titles, 32 national championships and 1 European title, EA SPORTS presents the strongest team of cover athletes it has ever assembled for its FIFA Soccer franchise.
"It is a great honor to unite so many exceptional players on the FIFA Soccer 11 team of cover athletes," said Matt Bilbey, Vice President of Soccer, EA SPORTS. "This mix of superstars from all over the world, each with their own unique style and passion for the game, and their different kind of amazing playing styles perfectly represents what FIFA Soccer 11 stands for – a true authentic and global game of unprecedented quality."
FIFA Soccer 11 Player Line Up:
Talent / Nationality / Team
KAKA Brazilian Real Madrid
WAYNE ROONEY English Manchester United
PETR CECH Czech Chelsea
KARIM BENZEMA French Real Madrid
HUGO LLORIS French Olympique Lyonnais
MESUT OEZIL German Real Madrid
RENE ADLER German Bayer Leverkusen
GIORGIO CHIELLINI Italian Juventus
ANDRES INIESTA Spanish FC Barcelona
TIM CAHILL Australian Everton
BALASZ DZSUDZSAK Hungarian PSV Eindhoven
RICARDO CARVALHO Portuguese Real Madrid
SERGEI SEMAK Russian Zenit St. Petersburg
VALENTIN STOCKER Swiss FC Basel
CARLOS VELA Mexican Arsenal
LANDON DONOVAN American LA Galaxy
JAKUB BLASZCZYKOWSKI Polish Borussia Dortmund
Visit http://www.facebook.com/easportsfifa to join the EA SPORTS FIFA Facebook group or visit WWW.FIFA.EASPORTS.COM for more information about the game.
FIFA Soccer 11 will be available in stores September 28 in North America and October 1 in Europe and Asia for the PlayStation3, Xbox 360, Wii, PC, PlayStation 2 computer entertainment system, Nintendo DS™, PSP® (PlayStation®Portable) system and iPhone. It will be available on the Wii in North America on Oct. 4. FIFA Soccer 11 is developed under the EA SPORTS brand by EA Canada in Burnaby, B.C. The game is rated "E" for Everyone by the ESRB and 3+ by PEGI in Europe