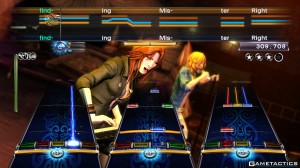 Harmonix, the world's premier music video game developer, and MTV Games today announced that Rock Band 3, the next generation in the ultimate social and interactive music gaming platform, is available today in North America and will be available Oct. 29 in Europe, Australia, New Zealand and other territories for the Xbox 360 video game and entertainment system from Microsoft, PlayStation 3 computer entertainment system, Wii and Nintendo DS.
"Rock Band 3's greatest achievement may be that it's not just another Rock Band game; it's an ambitious step forward for the genre."
To kick off downloadable content for Rock Band 3, the legendary band, The Doors, will be the first of several high profile artists featured in the Rock Band Music Store. A three-pack of The Doors' songs is available for free to fans that purchase Rock Band 3 and play online during the first week of launch (Oct. 26-Nov. 1). The free pack, which is available only through the Rock Band 3 in-game Music Store, includes "Light My Fire," "Riders on the Storm" and "Touch Me," and incorporate five-button guitar and bass, Drums, Pro Drums and Keys, Pro Keys and harmonies, where applicable, as well as a free expansion that will add Pro Guitar and Pro Bass parts.
As previously announced, The Doors also released an additional nine-pack of songs today, available for purchase and download in the Rock Band Music Store[2]. And soon, Rock Band 3 players can expect new downloadable tracks from legendary artists, including Billy Joel, John Lennon and Bon Jovi!
To coincide with the launch of Rock Band 3, RockBand.com has been completely redesigned by the team that brought you the Webby Award-winning The Beatles™: Rock Band™ website. The new site goes live today and, among other additions, now features the ability for fans to share their Rock Band 3 experiences with others through the click of a button. When players link their RockBand.com accounts to their Rock Band 3 profiles, all their gameplay goals and achievements will be published to a personalized "My Gameplay" page on RockBand.com. Players can then share their exploits with friends over Facebook, Twitter, email and more. When players use RockBand.com to create setlists and battles, these can also be shared with friends via Facebook, Twitter, other social networks and email. Additionally, the 700-plus goals available in Rock Band 3 have been integrated into players' RockBand.com personal profile, so they can track goals, as well as career progress, via the web.
Rock Band 3 delivers the deepest Rock Band experience yet with an incredible 83-song soundtrack featuring the music of Avenged Sevenfold, Paramore, John Lennon, Jane's Addiction, Phish, Anthrax, The Cure, Def Leppard, Ozzy Osbourne, Bob Marley, Foreigner and many more. Rock Band 3 also gives players immediate access to more than 2,000 songs[3] in the ever-growing Rock Band Music Library and support for most existing Rock Band songs[4]. In addition, Rock Band 3 adds three-part vocal harmonies and introduces a keyboard peripheral to the band, allowing up to seven players to rock together for the ultimate social gaming experience.
Rock Band 3 also marks the debut of Rock Band Pro Mode, which bridges the world of gaming and real musicianship through a collection of new instrument controllers, trainers and gameplay options that open the door to real-world guitar, bass, keyboard and drum skills.
Rock Band 3 offers something for everyone. The game's deep Career Mode takes the band on a journey to gain new levels of status while the environment around them changes from streets and subways to tour stops and mega-venues. For the serious player, the revamped Career Mode features more than 700 goals and rewards and seamless leaderboard integration for an endlessly deep campaign experience. The game also features easy drop-in and drop-out, easier No Fail accessibility and an all-new Party Shuffle. Rock Band 3 also adds a suite of social networking tools to the game, including the ability to create, save and share playlists online or on the console, so fans can engage friends over Facebook, Twitter, email and more. Check out those tools and more at the newly launched RockBand.com.
Developed by Harmonix, published by MTV Games, and distributed by distribution partner Electronic Arts Inc. (NASDAQ: ERTS), Rock Band 3 is compatible with all Rock Band and The Beatles: Rock Band peripherals, as well as most third-party instrument and microphone controllers. Rock Band 3 Pro Mode requires Rock Band Pro-compatible instrument controllers. Mad Catz, the official peripheral manufacturer and distributor for Rock Band 3 game controllers, has released Pro Mode compatible controllers including the Rock Band 3 Fender™ Mustang™ PRO-Guitar™ Controller, Rock Band 3 Wireless Keyboard, Rock Band 3 PRO-Cymbals™ Expansion Kit and the Rock Band 3 MIDI PRO-Adapter™.
Harmonix has also teamed with Fender to create the Rock Band 3 Squier® by Fender Stratocaster® Guitar Controller, a full-sized, six-string electric guitar that also functions as a game controller that will be compatible with Rock Band 3 Pro Mode. The Rock Band 3 Squier Stratocaster will be available in early 2011.
Pricing for Rock Band 3 is as follows:
* Rock Band 3 Software for Xbox 360/PlayStation 3 system: US MSRP $59.99, continental Europe MSRP €59.99, UK MSRP £49.99
* Rock Band 3 Software for Wii: US MSRP $59.99, continental Europe MSRP €49.99, UK MSRP £39.99
* Rock Band 3 Software for Nintendo DS: US MSRP $29.99, continental Europe MSRP €29.99, UK MSRP £24.99
* Rock Band 3 Software and Keyboard Bundle for Xbox 360: US MSRP $129.99, continental Europe MSRP €129.99, UK MSRP £109.99
* Rock Band 3 Software and Keyboard Bundle for Wii: US MSRP $129.99, continental Europe MSRP €109.99, UK MSRP£99.99
* Rock Band 3 Mad Catz Wireless Keyboard for Xbox 360, PlayStation 3 system and Wii: US MSRP $79.99
* Rock Band 3 Mad Catz Wireless Fender Mustang PRO-Guitar Controller for Xbox 360, PlayStation 3 and Wii: US MSRP $149.99
* Rock Band 3 Mad Catz Wireless PRO-Cymbals Expansion Kit– Universal: US MSRP $39.99
* Rock Band 3 Mad Catz MIDI PRO-Adapter for Xbox 360, PlayStation 3 system and Wii: US MSRP $39.99