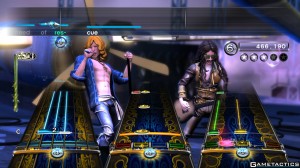 Harmonix and MTV Games today announced that 12 of Bon Jovi's greatest hits, including four tracks with Pro Guitar and Pro Bass, as well as tracks from New Order, Deftones and Talking Heads, which also feature Pro Guitar and Pro Bass upgrades, will be available Nov. 9 in the Rock Band 3 Music Store of downloadable content for the Xbox 360 video game and entertainment system from Microsoft, PlayStation 3 computer entertainment system and Wii.
Rock Band provides the deepest and best selection of artists, songs and albums through the Rock Band music platform, which features more than 800 artists and more than 2,000* tracks via disc and download purchase (complete list of tracks at www.rockband.com/songs). Rock Band's gigantic music library dwarfs that of any other rhythm video game on the market. To date, more than 75 million songs have been sold through the Rock Band Music Store since its launch Nov. 20, 2007.
Rock Band DLC Additions for Xbox 360, PlayStation 3 system and Wii
Bon Jovi, named for frontman Jon Bon Jovi, formed in New Jersey in 1983 and has since released 11 studio albums, three compilation albums and one live album, selling more than 120 million records worldwide. The band is a member of the UK Music Hall of Fame, a 2011 Rock and Roll Hall of Fame nominee, and Jon Bon Jovi and Bon Jovi guitarist Richie Sambora are also members of the Songwriters Hall of Fame. Next week, 12 of Bon Jovi's most-loved songs will be added to the Rock Band Music Store.
Bon Jovi Greatest Hits: Rock Band Edition will feature the first back-catalog songs updated for Rock Band 3 gameplay to include Pro Keys, Keys, Pro Drums and harmonies, as well as traditional drum and five-button guitar and bass gameplay. The updated songs are "Livin' on a Prayer," "Wanted Dead or Alive" and "You Give Love a Bad Name." Additionally, these three songs, as well as "Runaway" will also feature Pro Guitar and Pro Bass upgrades available for an additional $0.99 per song. The pack also features favorites like "Blaze of Glory," "It's My Life" and "Bad Medicine," among others.
The same day and date that this ultimate Bon Jovi pack is available, Bon Jovi's Greatest Hits – The Ultimate Collection will also be available – an exclusive double-disc version with a total of 28 tracks, including four brand new songs. The album is now available for pre-order on Amazon! If you place your order today, you can save $5.99 off the retail price ($19.98) and pay only $13.99!
Also available for download next week are three additional songs that feature the Pro Guitar and Pro Bass expansion downloads – "My Own Summer (Shove It)" from American rockers Deftones, "Blue Monday" from British New Wave favorites New Order and "Burning Down the House" from American art rockers Talking Heads.
Available on Xbox 360, Wii and PlayStation 3 system (Nov. 9):
· Bon Jovi – "Bad Medicine"
· Bon Jovi – "Blaze of Glory"
· Bon Jovi – "Have a Nice Day"
· Bon Jovi – "I'll Be There For You"
· Bon Jovi – "It's My Life"
· Bon Jovi – "Lay Your Hands On Me"
· Bon Jovi – "Livin' on a Prayer (RB3 version)" X
· Bon Jovi – "Runaway" X
· Bon Jovi – "Wanted Dead or Alive (RB3 version)" X
· Bon Jovi – "We Weren't Born to Follow"
· Bon Jovi – "Who Says You Can't Go Home"
· Bon Jovi – "You Give Love a Bad Name (RB3 version)" X
· Deftones – "My Own Summer (Shove It)" X
· New Order – "Blue Monday" X
· Talking Heads – "Burning Down the House" X
(All tracks are original master recordings)
(These tracks will be available in Europe on PlayStation 3 system Nov. 10)