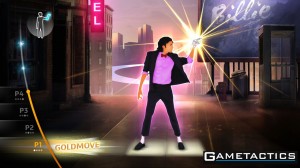 Today Ubisoft announced it will make available a special edition glove to be included in the initial release of the Wii version of Michael Jackson The Experience that is reminiscent of the iconic glove worn by the legendary Michael Jackson during his most memorable performances. The special edition gloves will only be available at launch, further enhancing the magic felt by the King of Pop's fans as they dance to his greatest hits in environments inspired by his ground-breaking music videos and unforgettable live performances.
"One of the most iconic symbols of Michael Jackson's music and performance legacy is his signature glove," shared Tony Key, senior vice president of sales and marketing, Ubisoft. "Consumers are encouraged to either pre-order Michael Jackson The Experience early or make sure to purchase the title on day one in order to get this special edition glove as we're sure it will sell out quickly."
The Wii game that includes the special edition glove is now available to pre-order for the same price as the standard, non-glove Wii version (MSRP $49.99) allowing shoppers an opportunity to obtain the glove while supplies last at no additional cost. Michael Jackson The Experience will be available for the Wii system from Nintendo, the Nintendo DS family of hand-held systems and the PSP (PlayStation Portable) system on November 23, 2010 in North America. The game is also available to pre-order for Kinect for Xbox 360 and PlayStation Move motion controller for the PlayStation 3 computer entertainment system, which are both scheduled to be released in early 2011.
Ubisoft is also revealing two new tracks for the game today – Speed Demon and
Dirty Diana.
The Michael Jackson The Experience track list announced to date now includes:
-Bad
-Beat It
-Billie Jean
-Black or White
-Dirty Diana
-Earth Song
-Ghost
-Rock with You
-Smooth Criminal
-Speed Demon
-The Girl Is Mine
-They Don't Care About Us
-Thriller
-Who Is It
-Workin' Day and Night
Fans and consumers can pre-order Michael Jackson The Experience by visiting
either retail locations or online retailers nationwide and to get the latest updates on the game, fans can join the official Michael Jackson The Experience Facebook page at: http://www.facebook.com/MichaelJacksonTheExperience.