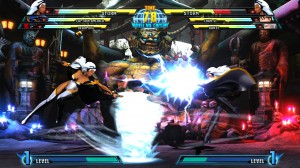 Capcom has announced two more characters for the upcoming Marvel vs. Capcom 3: Fate of Two Worlds last week. Now you can check out Storm and Crimson Viper battling it out in a whole whack load of screenshots and gameplay trailer for these exciting new warriors.
First we have, Ororo Munroe, who was born with the mutant ability to control weather. She joined the X-Men and became Storm, one of the team's most reliable members. Other Marvel characters include She-Hulk, Magneto, M.O.D.O.K., Spider-Man, X-23, Dormammu, Thor, Deadpool, Hulk, Wolverine, Iron Man, Captain America, Doctor Doom and Super-Skrull.
Next up we have Crimson Viper, the funky CIA agent who made her debut in Street Fighter IV. She'll be joined by Capcom comrades Zero, Arthur, Nathan "Rad" Spencer, Wesker, Tron Bonne, Viewtiful Joe, Amaterasu, Dante, Ryu, Morrigan, Chris Redfield, Felicia, Trish and Chun-Li.
Get set for the ultimate 3-on-3 faceoff when Marvel vs. Capcom 3: Fate of Two Worlds hits PlayStation 3 and Xbox 360 on February 15, 2011.
Trailer:

Share this video on your blog with an website or even a forum by using the html code below:
<embed src="http://blip.tv/play/AYKVgE0A" type="application/x-shockwave-flash" width="576″ height="390″ allowscriptaccess="always" allowfullscreen="true"></embed>
Screenshots: