Sony Computer Entertainment America LLC. hosted a three day celebration in an effort to set five Guinness World Records attributed to LittleBigPlanet 2, the latest PlayStation 3 PLAY, CREATE, SHARE experience and sequel to the award-winning, multi-million unit selling hit LittleBigPlanet. Beginning Monday, January 17 and concluding at 6:00pm EST tonight, dedicated LittleBigPlanet fans took over the PlayStation Lounge at the Sony Style store in New York City to earn their place in history. The five Guinness World Records that were set included: "Longest marathon playing LittleBigPlanet 2," "Longest marathon playing a platform video game," "Most video game genres played in one video game in 24 hours," "Most user-generated video game levels played in 24 hours," and "Most user-generated video game levels played in a video game marathon." Throughout the three day period, three spirited gamers headlined the historic run—David Dino (PSN ID: Gevurah22), Sean Crowley (PSN ID: Jaeyden), and Lauren Guiliano (PSN ID: Lugey)—with various fans, developers, and local supporters taking turns sitting in the fourth chair to be part of the action.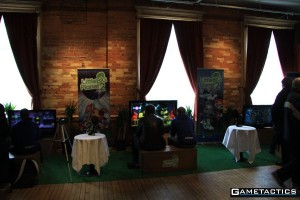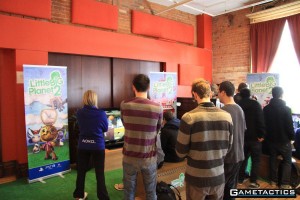 Click through for more photos and story…

"We'd like to congratulate the dedicated group of gamers and the entire LittleBigPlanet 2 team on setting five new Guinness World Records, an impressive accomplishment in such a short period of time," said Scott A. Steinberg, Vice President of Product Marketing, SCEA. "With LittleBigPlanet 2 releasing this week, it's fantastic to see so many fans embrace this launch, which continues to illustrate the endless fun that this title provides for fans and newcomers, as well as the entire family."
In addition to the records set, LittleBigPlanet 2 was also recognized for the following Guinness World Records: "Most gaming genres in one video game" and "Most player-created levels in one video game." Once all game play came to a close, representatives from Guinness World Records presented the team of gamers and SCEA with official certificates of achievement, confirming this impressive accomplishment. For those fans who were not able to attend the festivities, the entire three day event was streamed live online on the PlayStation Blog (http://blog.us.playstation.com/) and Guinness World Records' official website (www.guinnessworldrecords.com), showcasing all of the activities that took place, including interviews hosted by Veronica Belmont from PlayStation®Network's Qore and Jeff Rubenstein from the PlayStation Blog.
This record setting event also commemorates the release of the Guinness World Records 2011 Gamer's Edition, the latest chronicle of video gaming history. LittleBigPlanet looms large in this year's edition of the book with the game's main character lovable, stitched-together main character, Sackboy™, gracing the book's cover and a bevy of facts and records cited within its pages. Known as the "Video Game Bible," the fourth and latest edition of the popular series comes packed with 90% new or updated records and 750 never-before-seen amazing images appealing to everyone from hard-core gaming veterans to first time gamers and families. The Guinness World Records 2011 Gamer's Edition will be available January 20th for $14.99.
LittleBigPlanet 2 offers four-player offline and online multiplayer, a host of fun and challenging trophies to collect, and is backwards compatible with LittleBigPlanet allowing players to access the more than three million online levels created with the original game. The Blu-ray disc will also include Sackboy's™ Prehistoric Moves—stand-alone bonus levels that support PlayStation®Move.
LittleBigPlanet 2 is a single or multiplayer creative gaming experience that has an ESRB rating of "E" for Everyone. For more information about the ESRB, visit www.esrb.org. For more information about the LittleBigPlanet franchise, visit www.littlebigplanet.com.