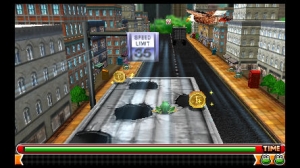 E3 Fact Sheet for Frogger 3D
Short Version: …I'm sorry, I'm finding it hard to describe these games now. It's all older games being made all shiny and 3D for the 3DS. I really do not have anything to add to it to make you all excited about it. Sorry.
Full fact sheet after the jump.
Publisher: Konami Digital Entertainment, Inc.
Developer: Alpha-Unit Co. LTD
Release Date: Fall 2011
Platform(s): Nintendo 3DS
ESRB: E for Everyone (anticipated)
Genre: Action
Multiplayer: 1 (Local) 4 (Wireless)
Website: www.konami.com

Brief Game Description:

Frogger is back, and he's bringing a whole new dimension with him!
Just in time for his 30th anniversary, Frogger is back, crossing streets, taking names and coming at you in 3D! The excitement of Frogger's timeless run-and-dodge gameplay is arriving at a Nintendo 3DS near you, with fun new graphics, novel level twists, and new friends to help Frogger make it across the way!

Key Features:

Classic Frogger Gameplay. Using the tight controls on the 3DS, run, dash and dodge past moving obstacles and enemies.
6 Huge New Worlds to Explore. Frogger ventures from the streets and sidewalks of his hometown to new places and exotic locations, including New York, the Far East –even Space!—in 60 uniquely challenging stages.
New friends change up gameplay. Team up with some of Frogger's special frog friends in certain levels to destroy obstacles, absorb damage or light the way in dark spaces as he progresses through the game!
Compete against other players! Enjoy 4 player multiplayer over wireless, engage in Street Pass battles or show off your skills in the all new Forever mode!