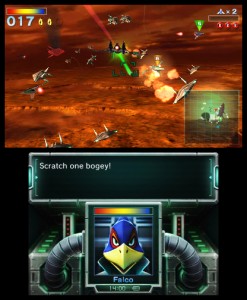 Star Fox 64 3D is finally here on the Nintendo 3DS, you'll need to defeat Andross on the planet of Venom just like in the classic N64 version. This updated version of the classic Star Fox 64 has updated graphics, multiplayer over one cartridge and some new challenges for you to accomplish, but no new campaigns. It has been 14 years since the release on the N64, with the pricey cost of the game, lack of flying freedom and lack of new campaigns, does this game really worth buying for your 3DS? Find out when we review Star Fox 64 3D for the 3DS.
If you are too young to have played the original Star Fox 64, it was truly a classic game that you had to own on the Nintendo 64. It was the first 3D simulator/space combat game that had some knuckle clenching moments that you just loved. I am pretty sure that many N64 consoles were sold just because they wanted to try out this space combat game.
The game levels are the same, if you take different paths, you will end up in different areas of the level. You now have the ability to choose the planet ahead of time instead of things being locked because you chose a different path. The graphics have been completely changed, it adds a nice fresh look on the 3DS, and of course the 3D is pretty cool and gorgeous. It's a little scary on some spots if you have the 3D mode on, you'll have an object come right at you.
Controls remain the same if you want to use the analog stick to steer, however you can also activate the 3DS controls where you can tilt your 3DS. The gyroscope mode is interesting and changes how the game plays, you might want to even try playing it with controls and then trying out the 3DS control mode.
Star Fox 64 3D's local multiplayer mode lets you battle up to three friends. There are four environments to choose from. The levels have some great obstacles that you can do barrel rolls over and around as your friends chase you. A fun new feature using the 3DS camera is you can do goofy faces and send it over to their screen to distract them. The really cool part of the multiplayer is it that it supports Download play, only one cartridge is required to play 4 players. There is no online internet play, this is quite a big downer in the game and online play would have been an amazing addition to the game. Imagine meeting up friends or strangers from around the globe and battling it out. Sending your goofy face across the internet to distract a total stranger and blasting them in a dogfight. Sadly, Nintendo did not include internet online play, so you'll have to play with local friends who own a 3DS.
Star Fox 64 3D still has that amazing feel of flying in space, intense space battles and big boss battles from the original game. The controls on the 3DS are very precise and have the same great feel as the N64 controller. Fans of the original game will not be disappointed reliving their space battles once again; gamers who have never played the game will love the mechanics of Star Fox 64. The only thing stopping this from being a must own is the high $40 price tag and only "local" 4 player 3DS versus modes.
Gameplay
Graphics
Sound
Overall
Click here to buy Star Fox 64 3D online from EBGames.com

Click here to buy Star Fox 64 3D new or used from EBGames.com Online for a great price.