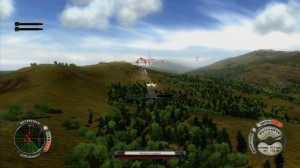 Air Conflicts: Secret Wars is an arcade aerial combat title from Games Farm that takes place during World War II. The era has been done to death in the first-person shooter genre but despite the romanticism and iconic airplanes, has not broken through in the flight genre. The game follows Dorthy "Deedee" Derbec, a pilot for hire, as she makes her way through the time period. She works alongside her late father's friend Tommy, a hero from the First World War, and together they do odd jobs for the highest bidder. Eventually they reach a point of no return in the story and get sucked into the global conflict. Through this ordeal she looks to stories of her father to help guide her find herself. These stories are relayed by individuals she encounters along her adventure that were part of her father's old squadron and she comes to realize that she may not have fallen too far from the tree.
Unfortunately, the overall story just poorly executed. It's told in-game as well as thru hand-drawn art between missions. The gameplay does not do much to support it. The voice acting makes it feel like a joke. But, as indicated above, it appears if you strip all that away and just look at the pure story being told, it shows promise, complexity, and depth. I enjoyed how a lot of the allies where flawed and that the main character is often conflicted with what she is doing. You certainly don't care about any of the characters but it must be noted, that a decent story lies underneath all of the bad. And while being quite linear, you are given a nice choice as the end which must be commended.
Air Conflicts: Secret Wars puts you in the seat of some of the most popular World War 2 aircraft, including a couple experimental ones. The game will have you doing the fundamentals fairly quickly. The basics are handled quite well but there are not many aspects that are fleshed out. Shooting enemy planes feels good but bombing is frustrating. The controls for the arcade style feel intuitive and natural but simulation makes the airplane feel like a vomit rocket from the shaking. Taking off is as simple as moving the throttle to max but you'll never touch the throttle after that. If you bring it down even a quarter while in flight will cause you to get a stall warning. Landing is handled automatically as long as you manage to fly through a handful of landing rings that line you up to the runway. It's nice as that is one of the frustrating aspects of many air titles but at times you'll be approaching the runway from the opposite direction and can't land in that orientation. It makes the title feel rigid. In modern titles it may make sense, but for example, doing a story-triggered controlled crash landing should be flexible enough to handle however I wish to land.
Targets help you aim and lead targets. The reticule will light red when you're getting solid hits. Bombing can be a little frustrating because a reticle will be painted on the ground that can be covered up by your airplane. Trying to utilize the camera doesn't help make your targets more visible. The basics are done well but nothing else is fleshed out or polished. There is a stealth meter but it only works when you're in close approximation of the enemy in stealth missions. There is a direction meter, but it only works in missions that you're searching for things. There is an adrenaline mode, which slows down time, but never really needed to achieve anything.
There are two control schemes, arcade and simulations. In the arcade mode, the training wheels are put on. You can't do fancy aerobatic tricks in your plane but it feels good and solid. In simulation you have complete control of the plane but it makes it much harder to control. Most times I defaulted to the arcade controls because they felt so intuitive and natural whereas I struggled with the simulation ones. In simulation my plane felt like I had Parkinson's and I had trouble lining up for bombing runs. I'm sure I would have grasped them eventually but considering the game is relatively easy and forgiving; there is no real reason to step up your game. The game defaults to the third-person view but there are other options as well but you quickly realize they aren't very useful. While in third person, you can rotate the camera to check for bogies but that's about it. You're control isn't particularly precise with it so you can't attempt to line up the camera for a nice bombing run, you just have to adjust the height of your plane so you can see the reticle.
The gameplay, while admittedly basic, has been hoisted onto the shoulders of the mission designers and carried a little bit. Some of them take the core mechanics and deliver some nice variety. Some missions will be typical bombing or dogfighting missions but others will have to avoid detection by flying around enemy patrols. Others will have you clearing the railway for a train barreling down the tracks and scaring away enemies rather than destroying them. Some end up as duds but the risk they took at least adds some flavor to a bland sandwich. The one issue I have with the missions though is that they are short. Most last only 5 minutes and a handful might reach double that. Coupled with the fact that a couple minutes of each mission is dealt relaying the story or flying across the map to the next objective, they feel incredibly short. Sure, this means the bad never lasts too long but it also means the good doesn't last long enough.
The game liberally uses time limits in attempt to add tension to the title but rarely ever works and even worst, typically makes no sense to the story. When used right, time limits can add to a title but those are incredibly rare. When used wrong, they are simply annoying. Now in this title, I didn't lose many missions to the time running out so it's not particularly frustrating but it doesn't add to the title at all. It doesn't add to the tension. Your plane is always at max throttle so getting to objectives quicker is not possible and when you realize the developers have given you a relatively decent amount of time to get things done, you simply ignore it. Even if you should succumb to it, checkpoints are usually positioned nicely so you don't have to replay the entire mission.
Air Conflicts: Secret Wars ends up being pretty shallow and bland. The story, while seems a little intricate and interesting beneath the surface, lacks in execution so much that most simply don't care that much about it. The simplistic gameplay can be fun and diverse objectives and maps help hide it but it can't hide forever. And with the risks taken in the mission design, some end up duds.
With all the strides made to make a decent title is often forgotten by many and here is the same. Trying to find an online game is as elusive as finding that missing sock from your wash. This problem is no endemic to just this title though. Most titles that don't sit atop the game mountain struggle to keep an online community. Even the best of Xbox Live Arcade titles struggle to keep an online presence. What's here appears to be good. There are plenty of options to limit which planes can be used. The gametypes are generic but get the basics covered. If you get a group of friends, it is without a doubt you'd be able to find some fun in this arena but how long it lasts is the question. The gameplay is shallow. There is the ability to dogfight against the AI but they won't give you much of a challenge and there is no bots online leaves the battlefield feeling small. If you get this title for yourself, count out multiplayer. If you get a group of friends, it's a bonus.
World War II has a lot of iconic images and over the years, people have come up with great ways to stylize them. Air Conflicts has the iconic aircrafts and world but it has no flair. There is nothing to distinguish itself from the crowd. The airplanes feel static, especially when some of the plans do not have any animated parts except for the propeller. The levels reuse a lot of assets but the level design and objectives are varied enough to make you feel like they are not repetitive. They range from desert to snow climates and look adequate. The terrain is well populated with mountains, farmland, or towns. Trees and enemy units will cast shadows on the ground. The level of detail scaling can be quite noticeable, particularly with the trees making a significant shade change as you get closer. The core issue just seems to be that the textures feel not very detailed. The game also does not feel like it has signature look which further compounds the generic feeling.
Some parts of the campaign have you dropping bombs and blowing stuff up and at one point the characters remark about how impressive one of the explosions are but it looks like a dud. Things like that size up a lot of the effects in the game, lackluster. Planes explode, flak will fill the sky, and bridges will crumble but all of it looks unimpressive. Bridges are barely even animated. One second they are complete, the next they appear in their destroyed state. It doesn't help convey the story well at all. What it does do a decent job of are the hand-drawn pictures used for the cutscenes. They help relay the story without the need for fancy graphics. While the characters speak between missions, the camera pans across them. It's done elegantly enough to keep you engaged in the static images. Unfortunately, the look of these images contrast with the look of the game which makes them a little jarring at times.
Overall, Air Conflicts: Secret Wars looks quite generic. Good level design helps to hide the repetitiveness of the assets and low resolution textures but don't excel enough to convey the story adequately. The airplanes look nice but are a bit static. The hand-drawn cutscenes help convey the story well but conflict with the look of the rest of the game. And at the end of the day, there is just no signature style to the time so by the time you turn the game off, you will probably forget what it looks like.
When you first start up the title, the music that greats you are quite well done and give you hope for the rest of the package. Unfortunately, it does not drift much further than that. While the music fits the theme admirably, there is not much more than a couple tracks in the game. A noticeably absent track is one for action pieces. Instead, no matter what you're doing, you hear the same one or two pieces. The voice acting is terrible, even for those that like a little cheesiness. The sound effects are uninspired and are quite simplistic. Voice communications in the air are not even dressed up to sound like they are being given to you in the air. Dramatic lines have no punch. Interactions between characters make it seem obvious that they were done separately and then thrown together making them sound very awkward at times. The engines of your plane are barely audible and all sound the same. As well as other sound effects for things blowing up or soldiers dying. The sound design is enough to fill in the blanks but not enough to make anything close to an immersive experience.
Air Conflicts: Secret Wars is a game that had potential to be quite good but fails to take off because of poor execution and simplistic design. The story seems to have been written with depth and complexity but poor voice acting keeps it from being taken seriously. The level design at times is quite varied but the basic and rudimentary core gameplay mechanics prevent them from being anything special. The music is quite well done but there is not enough of it for the varied moments in the game. The insufficient voice acting has a certain charm to it but it doesn't do any favors for the story. The sound design is just simply inadequate. While everything mentioned above counts, it also must be noted that more times than not I was entertained. There are some missions that are duds but at an average length of only five minutes, you don't have to suffer too long. At other points, I kept playing because I wanted to see what happens next in the story. In so many games these days, the story is nonexistent or nonsensical. Credit should be given for this attempt as the story exists, it makes sense, and at its core is intricate and entertaining. Air Conflicts: Secret Wars may have a lot of bad things in it but it's not a lost cause. It's clear that a solid attempt was made to make this a quality title, it can be fun, and at a budget price, it's hard to falter it for not being the greatest.
Gameplay
Graphics
Sound
Overall
Click here to buy Air Conflicts: Secret Wars Online for the Xbox 360 from EBgames.com

Click here to buy Air Conflicts: Secret Wars New or Used for a great price from Ebgames.com