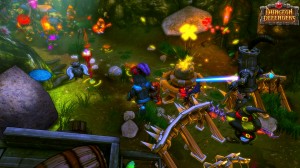 The Steam Holiday sale contiues with a ONE DAY sale of Dungeon Defenders! A ton of people were lucky enough to catch Dungeon Defenders on Steam for 75% off a while back, and now, those who missed it have the same opportunity! Dungeon Defenders has been 50% off since December 20th, but today (December 28th 2011) and for one day only, Steam has Dungeon Defenders and some of its DLC at 75% off yet again! You have to hurry if you want to get in on this sweet deal; again, TODAY ONLY! If you miss it, though, don't worry – it'll still be 50% off through January 2nd.
Buy it now on Steam for 75% off:
Dungeon Defenders New Heroes DLC – $1.25
Dungeon Defenders Warping Core Challenge Mission Pack – $.49
Dungeon Defenders The Great Turkey Hunt – $.49
Dungeon Defenders Halloween Mission Pack – $.49
Dungeon Defenders Halloween Costume Pack – $.25

Dungeon Defenders is one of the fastest selling downloadable games of all time. Bringing together the best elements of tower defense and action-RPG progression, it allows players to team up and fight across 15 unique maps, 30 challenges and four difficulty settings in all of the game's loot-raiding, spell-casting, level-up stacking glory. Players control one of four distinct heroes in an epic bid to fight back an ancient evil. Each character comes with special functions, and players can create and customize/upgrade an armory of weapons and equipment.
For more information on the game, visit www.dungeondefenders.com.