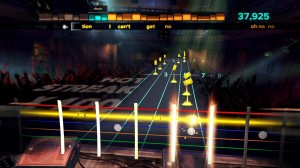 Ubisoft Canada today announced Rocksmith's Top Pick/Hot Pick Contest, an online competition that challenges both Rocksmith fans and die-hard guitar lovers looking for the best way to show off their artistic talents. This initiative invites the guitar community to submit either their most original pick design or their own guitar performance video based off Megadeth songs for a chance to win cool prizes.
There are two ways to win (open to residents of Canada only):
Top Pick
Participants are expected to sign up via the Top Pick contest site (www.toppickcontest.com). Once there, they will be invited to create a custom guitar pick design and promote their piece of art on social networks to increase their chances of winning. Prizes for the highest rated users includes a pair of backstage tickets for one of the nine Megadeth Canadian tour dates, as well as a chance to see their pick design being produced.
Hot Pick
Hot Pick invites participants to video record themselves playing one of the three Megadeth DLC songs (Symphony of Destruction, Public Enemy No. 1 or Hangar 18") and upload it to the Hot Pick website (www.hotpickcontest.com) for a chance to win a special ticket to one of the nine Megadeth Canadian tour dates. The winner will then get to challenge Megadeth's guitarist, Chris Broderick, to a Rocksmith competitive match-up and a chance to walk away with Broderick's own guitar.
Rocksmith is the first and only video game that allows players to plug in any real guitar into an Xbox 360, PlayStation®3 to play a sizeable library of songs from the latest hits to classic rock songs. Rocksmith adapts to the player's skill level from novices who have never picked up a guitar to the most experienced shredder.
For more information on Rocksmith, please follow the game on Facebook at http://www.facebook.com/RockSmithCanada, or visit www.rocksmith.com.