Since March 7, fans nationwide have been casting their votes to determine the next cover athlete for Madden NFL 13, logging 4.3 million votes during the play-in round and more than 8.5 million votes since the start of the bracket phase of the competition on March 21. Weekly fan voting will determine which of the remaining 16 NFL players will advance through seeded brackets – culminating with the unveiling of the Madden NFL 13 cover athlete winner on ESPN's SportsNation on April 25 at 5 p.m. ET.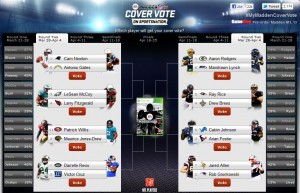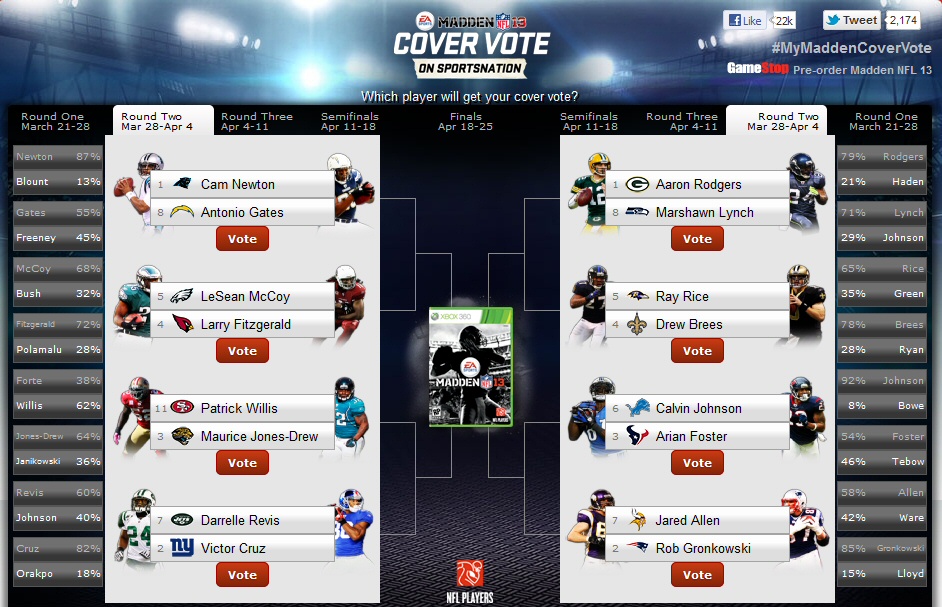 First round voting highlights include:
– Upset of the Week
– No. 11 seed Patrick Willis (LB, San Francisco 49ers) over No. 6 seed Matt Forte (RB, Chicago Bears)
Largest Voting Differential
– No. 6 seed Calvin Johnson (WR, Detroit Lions) over No. 11 Dwayne Bowe (WR, Kansas City Chiefs)
– No. 1 seed Cam Newton (QB, Carolina Panthers) over No. 16 seed LeGarrette Blount (RB, Tampa Bay Buccaneers)
Closest Matchups
– No. 8 seed Antonio Gates (TE, San Diego Chargers) over No. 9 seed Dwight Freeney (DE, Indianapolis Colts)
– No. 3 seed Arian Foster (RB, Houston Texans) over No. 14 seed Tim Tebow (QB, New York Jets)
Round 2 voting is now open and fans can make their selections exclusively at www.ESPN.com/MaddenVote to determine which of the 16 NFL players advance to the next round of the Madden NFL 13 cover athlete voting campaign. Every Wednesday throughout the campaign, fans can tune in to SportsNation at 5 p.m. ET for analysis and commentary on the competition.
Fans can visit the Madden NFL Facebook page (www.facebook.com/EASPORTSMaddenNFL) or SportsNation page (www.facebook.com/SportsNation) to join discussions surrounding the Cover Vote. Fans are also encouraged to tweet their Cover Vote picks using the hashtag #MyMaddenCoverVote on Twitter.
ROUND 2 BREAKDOWN OF MADDEN NFL 13 COVER VOTE CAMPAIGN
– Cam Newton vs. Antonio Gates
– LeSean McCoy vs. Larry Fitzgerald
– Patrick Willis vs. Maurice Jones-Drew
– Darrelle Revis vs. Victor Cruz
– Aaron Rodgers vs. Marshawn Lynch
– Ray Rice vs. Drew Brees
– Calvin Johnson vs. Arian Foster
– Jared Allen vs. Rob Gronkowski