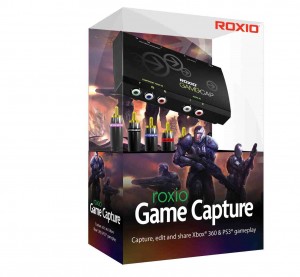 With many gamers getting into reviewing games on Youtube and live casting game sessions, it is very easy to get sticker shock at HD capture cards costing over $150. Roxio makes a very simple package sold for under $80 called the Roxio Game Capture Pro. With its Component inputs and limitations at 480p, will it be enough for you to get started? Find out when we review the Roxio Game Capture Pro.
The setup for the Roxio Game Capture Pro couldn't be any simpler: USB cord goes into your computer, hook up your PlayStation 3, Xbox 360 or Wii component cables (no hdmi here) into the Roxio Game Capture Pro, then use the free Component Cables and Audio L/R cables to your TV. Start up the included Roxio software and away you go capturing footage. You can save the output to AVI, DIVX or WMV, after trying all three, the best was AVI. Also of note is that the footage is captured at 480p and you must upscale it to 720p in the included video editing software so it fits modern day HD monitors. With the up scaling being said, it is noticeable that it really isn't HD…but not so much where people will be screaming why your videos look so ugly.
The Windows PC only video editing software has timelines, effects and text overlays similar to Sony Vegas or Adobe Premiere Pro, this is a great inclusion as you'll want to edit down your videos if you are doing reviews. The editing software was a little slow on our Dell i3 2.53ghz Vostro 260 4 gigs of ram desktop, especially when scrolling through the Effects portion of the software. If you own other video editing software, you will only be using this included software to upscale your videos to 720p since it lacks some advanced editing features.
Another thing you will notice right away is the poor output for the Roxio Game Capture Pro, darks are all blurry and ghosting slightly when using the pass through. It does not show up in the captured footage, only on the TV itself, so you might want to unplug your component cables from the Roxio Game Capture Pro when you are just gaming.
Over all the Roxio Game Capture Pro is a good start for the beginner gamer who wants to start his or her own show. We only wished that it didn't capture at a low 480p, but this device is well under $80 at the time of this posting and you really can't get anything even close to that price with bundled software. For those of you live casting, the 480p might turn you off…if you are editing your videos, you can upscale them to 720p for posting to your fav video hosting site.
Overall