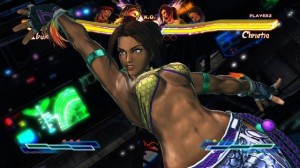 In April, 2012 a game was released that had two fighting game franchises clashing in the middle of Antarctica over a mysterious box, dubbed Pandora. Street Fighter X Tekken combined the hard hitting action of Street Fighter with the jaw rocking fighting of Tekken, in a game that was good, but not without its setbacks. On July 31st, 2012, Capcom released the 12 character DLC pack, which completes the game's roster, topping it in at 50 characters. For a more thorough review of the game itself, check out http://www.gametactics.com/2012/04/street-fighter-x-tekken-review-xbox-360/
With this 12 character DLC pack, you complete the roster for the game, but not without paying a price. That price being $20, or 1600 MS points. Included in this DLC pack are Blanka, Cody, Guy, Dudley, Elena, and Sakura from the Street Fighter side, and Alisa Bosconovitch, Bryan Fury, Christie Monteiro, Jack-X, Lars Alexandersson and Lei Wulong from the Tekken side.
If you're looking for this DLC pack to change a lot of things, or fix glitches that may be plaguing you, that's not what it's going to do. Sound glitches that were present before the DLC release aren't fixed. If you've kept up with any of the free DLC, or paid for DLC, you'll have more gems to choose from, or colors to change the appearance of characters, but actual gameplay hasn't changed at all. The game is still just as fast paced, and slightly cheap, as it was since the release. Whether playing online, locally, or in Arcade mode, combos are the name of the game, along with cross assaults and crazy mix ups.
Playing in arcade mode is interesting because all the DLC characters aren't given generic intros and ending, they all have their own exclusives, even when teamed up with their in game designated tag partners, like Lars and Alisa, or Sakura and Blanka. In one go around in arcade mode, I used Lars and Alisa as a team. Being such a Tekken novice, I didn't realize they knew each other, and were on the same side, in the Tekken universe, so I was pleasantly surprised to see that they had their own back story for arcade mode, and their own introduction before the match begun.
In conclusion, if you're someone who likes to have a complete game, and a complete roster of fighters, or someone who paid $40 or less for their copy of SFxT, this pack is for your. If you're a casual player, or someone who's fallen out of playing SFxT, this pack is probably not going to reel you back in, unless you're a really big fan of one of the DLC characters.
Gameplay
Graphics
Sound
Overall