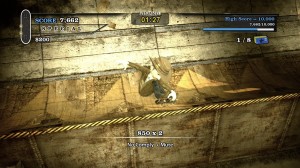 Extreme sports is something I've casually followed since the first X-Games in 1995. While these extreme sports were exciting and new to me it wasn't until 1999 with the release of the first Tony Hawk's Pro Skater that I got a good taste of what skateboarding had to offer. While that game was good, it's sequel, Tony Hawk's Pro Skater 2, was just a little bit better. Plus, the inclusion of Spider-Man didn't hurt any (Spider-Man is an amazing skateboarder). I kept up fairly well with the Tony Hawk games up to Underground, and kept tabs on following games, though I didn't really play any of them. So when it was announced that there would be an HD remix of the old Pro Skater series, I was intrigued. Would it live up to my memories of playing the originals, or would it be a cheap knockoff made to cash in on a retired skater's name?
Starting up the game, there's no attract mode or anything like that, it's just the logo and "Press Start". The menu is real basic, you have your single player, Xbox Live (online multiplayer), leaderboards, achievements, help & options, and exit game. Leaderboards is the list of high scores on certain levels sorted by either friends, so you can talk trash to them about how good your score is, or global, so that you can see where you rank among the best in the world. Achievements, help & options and exit game I think are self explanatory, so I'll be moving onto the meat of this game.
Single Player is made up of several game modes, the main ones upon purchase being career, single session, and free skate, with other modes being unlocked through career mode. If you're unfamiliar with the old Pro Skater series, career mode is where you're given a list of tasks to do in each stage. Not all the tasks need to be met, but a number of them must be done to unlock the next level. This is almost exactly the same as it was in the first 2 Pro Skater games, which is where the levels in Pro Skater HD come from. And just like the original games, the further you get, the more difficult the tasks become. Single Session is a mode where you can try to high score on levels without worrying about the other objectives like in career mode, and free skate is basically your practice/relax mode where you can just skate.
The Xbox Live option in the menu is where you can get your multiplayer fix, because sadly there's no local multiplayer in this game. In this mode you have the option to do a quick match with some random player who's online, join a match that someone may have started, or create a match, which puts you as the host of a game session where you can play with random people or play with your friends. Within create a match, you can make it a private or public game. The game modes available are Trick Attack; where you win by having the highest score out of the players playing, Graffiti; where you land tricks are parts of the environment to tag them as yours, the higher scoring the trick, the better odds you keep your tag, Free Skate; just an online practice session with friends or randoms, and Big Head Elimination; where your character's head will get bigger and bigger as other players land tricks, the more tricks landed the more chances your head doesn't pop like a balloon.
The gameplay in this game is very similar to the old games, but it honestly isn't better. There's a few problems with the controls, mostly they're not as tight as the original games were. Some tricks are harder to land, it's harder to figure out how to land the trick correctly, and grinding in certain circumstances is a chore. That's not to say that the controls are a deal breaker. As someone who's had experience with the original games it takes time to adjust, but that doesn't excuse some of the weirdness in the controls. Also, there are 4 returning characters from the original two Pro Skater games, with the rest either debuting in this game or returning from more recent games. There's also possibly more characters to be add through DLC, and through unlocking in career mode. Also a big plus, you can use your Xbox 360 avatar as a skater, totally customizable attributes, too.
The sound in this game is what you'd expect for a skateboarding game. The soundtrack is a mixture of tracks from the first two Pro Skater games, without anyway to customize the playing order at all, so it all plays at random. With that being said, the nostalgia factor of the tracks wears out quickly, but some of the songs are classic and if you're willing to deal with it, it's not too bad.
Overall, Tony Hawk's Pro Skater HD is a nice nostalgia trip. With DLC to possibly be introduced, in the form of more levels and more skaters, the fun and replay factor of this game could shoot up exponentially, but as it is now, it's just a fun trip down memory lane.
Gameplay
Graphics
Sound
Overall