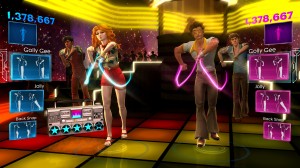 Discover why Dance Central is the top-rated franchise on Kinect for Xbox 360 by downloading a demo for the upcoming Dance Central 3 on the Xbox LIVE® Marketplace today!
Get a sneak peek at Dance Central 3's authentic, world-class choreography and precise controller-free full body tracking by checking out the moves to three new tracks: Jennifer Lopez ft. Pitbull – "On The Floor"; Maroon 5 ft. Christina Aguilera – "Moves Like Jagger"; and Nicki Minaj – "Starships"!
Additionally, get the first look at Party Time, the definitive way to get the party started! Party Time makes it easy to get up and play with your friends – simply high five to start! With the demo version of Party Time you can try out all the great party experiences in Dance Central 3, including innovative new modes like Make Your Move, which lets two players show off their creative side, battling head to head with their own moves! Now you're not only the controller, you're the choreographer!
The winner of two "Best of E3 2012" Game Critics Awards – "Best Social/Casual Game" and "Best Motion Simulation Game" – Dance Central 3 pushes the franchise in new directions, with innovative ways to play, industry leading design, and the hottest tracks from the '70s, '80s, '90s, '00s, and today! The beat keeps rocking with an innovative new party mode for up to eight players, the ability to import your songs from previous Dance Central titles, and more*! The best full-body dance experience and highest rated overall franchise on Kinect for Xbox 360 is better in every way with Dance Central 3!
Dance Central3, will be available in stores on October 16th in U.S., Canada and Latin America, and October 19th in Europe, Asia, and Australia!
Follow Dance Central on Twitter (http://twitter.com/dance_central) and Facebook (www.facebook.com/dancecentral).