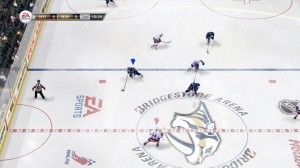 With the NHL lockout well under way and an entire season at stake, EA is in the unique position of offering the only way for people to experience their favorite teams and players all year. Even with the lack of competition from real life, NHL 13 steps it up a bit this year, though the main engine remains mostly intact from last year's addition. Whether that will tide you over is another matter altogether, but it's perhaps the best option out of slim pickings.
The main gameplay addition to this year's edition is the introduction of improved, more realistic skating physics, otherwise referred to as "True Performance Skating." What this means is that no longer can you change directions or turn on a dime regardless of your speed. Now you have to consider your angle of approach towards the puck and how hard you want to pursue it, as it's much easier to overshoot your man and miss him completely, with little recourse but to stop or swing a long turn up ice. It certainly changes the way you play in all zones of the ice, but especially in the defensive zone where checks are much harder to line up as you can no longer immediately push forward to step into a player. Needless to say this makes physical play take a bit of a back seat, lest you get burned creating odd man rushes. Fortunately poke checking and board play is more effective to make up for this. On the forecheck this also means you can get caught up ice with the puck going the other way if you fail to secure it, making it more of a calculated risk. All in all the game teaches you to be more thoughtful about your positioning on the ice, and once you get the hang of it you'll actually be intercepting more passes than ever, blocking shots and quickly transitioning up ice for breakaways and odd man rushes. It gives the game a more realistic flow rather than exchanging body checks left and right. There's some other neat little tweaks like being able to skate backwards in the offensive zone for some more trickery, too, and overall the AI continues to improve to account for these changes as well.
Two other modes new to the game will be familiar to owners of Madden 13. The first of these is NHL Moments Live, which allows you to recreate famous moments from throughout the season (hopefully? if not this might be quite embarrassing) and NHL history, usually revolving around winning the game before time runs out or reaching a certain number of points. It's a nice way to get a taste of Be A Pro mode without playing a whole game or season, but it is a bit odd to be playing Gretzky alongside the current roster of the Oilers when you're supposed to be re-enacting a game from 1981. Second you have the GM Connected mode, which much like Madden's Connected Careers mode allows you to blend offline and online play through your season, allowing any mix of human and AI players you like, including up to 750 players making up each team in the league. Unfortunately GM Connected mode limits you to playing with NHL teams only for whatever reason. You will need to go into the regular Season Mode if you want to play a season of one of NHL 13's other licensed leagues such as the AHL (like I am currently doing with my favorite team, the Lightning's affiliate, the Syracuse Crunch), the CHL , or foreign leagues like the Swedish Elitserien ,which NHLers might be running off to if the lockout continues.
Graphically NHL 13 does not differ much from 12 that I could tell in any perceptible way. Where the new version tries to stand out a bit more is in its presentation, with more TV like camera angles during stoppages in play and before faceoffs. While making it look more like a broadcast, I find the cuts away from the gameplay camera to be a bit jarring and it also kills off any sort of action after the whistle prematurely. It feels much like the removal of late hits from NFL Blitz and makes me wonder if there was pressure from the league or players union to remove post play shenanigans. It's a bit of a shame because sometimes it was a bit of a stress relief to rough up the goaltender or defenders after getting stoned for the umpteenth time, but I kid of course. Audio wise there doesn't seem to be a huge difference here either, with Gary Thorne and Bill Clement handling the commentary as they always do, with some new lines sprinkled in for good measure. The soundtrack is a mix between new hits and popular jock jams. My only criticism is that they don't take the next step and match each team with their goal music the way they do with the authentic horns, or at least allow the user to define or import a song. This would help complete the immersion, in my opinion.
Overall, EA's NHL series continues to straddle the line between simulation and excitement very well, and if you're not satisfied with the presets you can fiddle with just about everything in the AI or physics to make it play how you want, with EA themselves constantly updating the sliders as they discover money goals and other exploits. While not a radical overhaul of the entire engine, the skating physics update does make the game feel entirely new and will change the way you play for the better. All in all if you are a hockey fan desperate for a fix and looking to forget about pointless labor strife from millionaires vs. billionaires, this is a must buy. Best feature? There's no Gary Bettman or Donald Fehr to be found on the disc.
Gameplay
Graphics
Sound
Overall