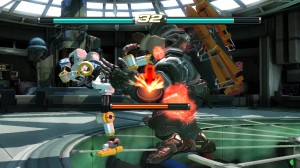 The first tag team match occurred in 1901. It was done to improve the entertainment value of professional wrestling at the turn of the century. In 1950 tag team wrestling became popular enough to have a World Tag Team Championship. Through time, the term "tag team" became part of our culture, and became a slang term used for any team of 2 or more people who engaged in activities where they had to use cooperation or alternate between each other. This also includes video games, where you can have teams of 2 or 3 characters like in Marvel vs Capcom, and Street Fighter X Tekken. But none may be as good at the tag team dynamic than Tekken Tag Tournament. Now, Namco has released the 2nd installment of the Tekken Tag Tournament franchise. How does it measure up?
Starting this game was interesting. My only real experiences with Tekken have been at arcades playing a few minutes of Tekken 2 and 3, and playing Street Fighter X Tekken. So getting into this game, while being mostly a Tekken noob, was fun because I got to figure out some of the characters I was into in the older Tekken games, and get more in depth with the characters now. Starting the actual game off, you're given a beautifully rendered cinematic going through different characters, and their pairings. It looks very much like the attract screen would on an arcade. The main menu is laid out with Online Mode being first, followed by Offline Mode, Fight Lab, Customize, Tekken Tunes, Gallery, Profile and Options. It's interesting to note that Online Mode is listed before Offline Mode, as though it's the main focus of the game.
In Online Mode, you get five sub-menu options. Ranked Match, Player Match, Team, Tekken Channel, and Leaderboards. Ranked is your standard mode where you fight people from around the country/world and try to be the best. Player match is the same but without rankings. Team is reserved for those who are part of an actual fighting team, as created on the World Tekken Federation website. Tekken Channel is where you can view replays of yours, or other peoples, matches, and the leaderboards are where you can see how you rank up with everyone else. Offline Mode consists of Arcade Battle, which is your standard arcade play through. Ghost Battle, which lets you fight against ghosts that you can download through online, VS Battle, which is your local multiplayer versus mode, Team Battle is where you can have a team of anywhere from 1 to 8 players fight fight in a loser leaves, winner stays battle, until only 1 team/person is left. Time Attack, which is how quick you can defeat your opponents, Survival, which is where you fight for as long as you can against opponents, practice, and Pair Play, which is local multiplayer team play, which allows up to 4 players. Back to the main menu, you have Fight Lab, which is a weird little pseudo story mode that lets you build up the Combot character, by going through the story and having it learn new techniques, which can be assigned to it. It basically lets you make Combot's moveset as you progress through the mode. Next is Customize, which lets you customize the looks of all characters through items unlocked, or items bought, for those characters. Then there's Tekken Tunes, which lets you edit what music plays on which levels while you fight. Gallery, which lets you view movies that have been unlocked in the game, as well as the credits. Profile lets you view information about your fight profile, such as what rank your individual characters are in game, your personal offline rankings and how you stand in certain modes, and Options, which is where you edit the options of the actual game
Gameplay wise, the first thing I need to say is that if you're using a regular 360 controller, you'll have to go into the controller settings to set the left analog stick to "movement" otherwise you'll have to rely on just the d-pad to move your character around. With that out of the way, I'll say that the controls were very fluid, even for someone like me who's not used to these controls at all. Once I understood the timing in how everything needs to be executed, I was pulling off some decent moves. Tekken Tag 2 reminds me of Virtua Fighter in a way, with how the controls are pretty easy to pick up, but extremely deep for the most hardcore of fighting game fans. if you're the kind of person who uses a fightstick or a fightpad to play these games, I think you'll be able to catch on really quick to the controls, and you'll be able to pull off the more advanced attacks in no time. If you're the kind of person who takes a casual approach to fighting games, and are just using the 360 controller, I'll say to be patient, and make sure you get your button presses timed right for the big moves. I, personally, don't believe this game can be played at any kind of competitive level with a regular 360 controller. That doesn't mean it's not possible, I just don't believe it can happen.
Graphically, this game is beautiful. I love the backgrounds, and I love the details on all the characters. The actions, the moves, even the cinematics look amazing. A small gripe in this are the little cut scenes in the Fight Lab, that basically look like drawings in motion. I'm not saying it's bad, I guess I just expected a little more considering all the other cinematics that are in the game. On the other hand, the cut scenes in Fight Lab fit the overall feel of the story of the mode pretty well, and even accentuate it.
I really can't say I have any huge gripes or disappointments about this game. The online is as smooth as you can expect from a fighting game. The sound is excellent. I haven't been able to find any glitches as of this writing. Is it a perfect game, no. No game is perfect. Is it an amazing fighting game that should be checked out? Yes. Very yes. The fighting in this game is pretty awesome, even though it relies on combos a lot. What I do have a gripe with is the manual. It gives you the basic layout of the controller, and what moves go to what buttons, but when it talks about tag team moves, it gives you a description of how to set them up, but doesn't tell you how to do the setup. You either have to search on the net, or buy the guide. How do I do a bound? What's a launcher, how do I do it? If I didn't have some experience with these already, I'd be pretty frustrated, and honestly, it did frustrate me anyway. But that's the manual, the game itself, I have no gripes with. It's possibly the best fighting game to come out this year.
Gameplay
Graphics
Sound
Overall