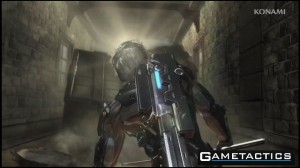 "This new METAL GEAR title leads the beloved franchise into unchartered waters," says Tomoyuki Tsuboi, President of Konami Digital Entertainment, Inc. "While maintaining an epic story in the vein of what MG is known and loved for, METAL GEAR RISING: REVENGEANCE challenges players with a sophisticated, action-packed game that both old and new METAL GEAR fans will enjoy and appreciate."
Developed by Kojima Productions and Platinum Games, METAL GEAR RISING: REVENGEANCE brings two of the world's most respected development teams together with a common goal of providing players with a fresh, synergetic experience that combines the best elements of pure action together with epic storytelling, all within the expansive METAL GEAR universe. METAL GEAR RISING: REVENGEANCE introduces Raiden as the central character – a former child soldier transformed into a cyborg ninja killing machine, equipped with a high-frequency katana blade and a soul fueled by revenge.
Metal Gear Rising: Revengeance Launch Trailer:
Combining traditional METAL GEAR elements with new aspects, METAL GEAR RISING: REVENGEANCE includes the following key features:
· The Latest METAL GEAR Console Experience:Featuring an all-new style of frenetic action gameplay and central character, Raiden, a cyborg ninja who uses his High Frequency katana blade to cut through anything that stands in his vengeful path!
· A New MG experience: Combining development powerhouses Kojima Productions and Platinum Games together, MGR: REVENGEANCE will offer fast & fluid gaming centered on katana-based combat within the METAL GEAR universe.
· Advanced technology: Produced by a hybrid team of renowned developers, the in-game technology promises to push the boundaries of graphics, style and lightning-speed action at a blistering 60 fps.
· ZanDatsu Cut Mechanic: Take advantage of what has been created – "an all-encompassing cutting plane in real time." Cut what you want, when you want, any way you want.
METAL GEAR RISING: REVENGEANCE is available now for the PlayStation®3 and Xbox 360® at major retail stores in North America and South America.
METAL GEAR RISING: REVENGEANCE is rated "M" for Mature by the ESRB and is priced at $59.99 for PlayStation 3 and Xbox 360.