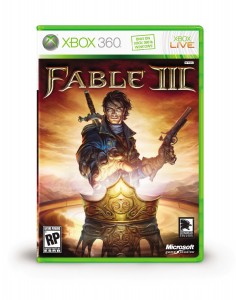 While we haven't had any official word about why it is free, as of last night Fable III is totally free for Xbox Live Gold Members. So head over to your Xbox 360 and download the game, the download is nearly 6 gigabytes so hop to downloading it gamers!
Just in case you live under a rock, here's a quick summary about Fable III:
Be the hero and forge your own destiny. Storytelling comes to life as "Fable III" puts you and your hero in the center of an epic journey that traces your rise from revolutionary to ruler and beyond, along with all the action, drama and humor. Interacting with the world of Albion has never been easier or more rewarding. The Expressions system offers an ingenious new Dynamic Touch feature that allows your hero to reach out and embrace a loved one, or exact retribution against those who have betrayed you. Your hero, your faithful canine companion and even your weapons now also evolve to extremes mirroring your morality and personal style of combat. The emotional connections players will develop in the world of "Fable III" will lead to some of the most memorable moments ever experienced in a game.