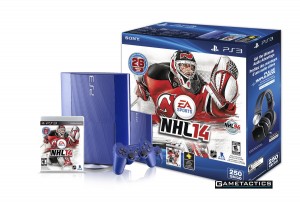 Sony Computer Entertainment Canada announced today that an exclusive Canadian bundle with a new "Azurite" blue coloured PlayStation 3 console and EASPORTS' NHL14 video game will be released this week. With the combination of the new blue console variant and the latest release from EASPORTS' NHL franchise, SCEC hopes to capture the hearts and passion of many hockey gamers and sports fans unique to Canada.
"The addition of NHL14 to the new Azurite blue PS3 bundle gives tremendous value to those hockey fans still looking to enter the PS3 world of gaming and entertainment. With a 250GB hard drive and an attractive price of $249, this is the perfect hardware choice for those still looking to add PS3 to the home" says Matt Levitan, Director of Marketing and Public Relations at Sony Computer Entertainment Canada.
The Canada only bundle will include an "Azurite" blue PlayStation 3 console with 250GB of memory, a matching blue Dual Shock 3 controller, and a copy of EASPORTS' NHL14 video game for $249.99. It will be available exclusively to EB Games retail and online stores starting this week, and available at most major electronics retailers starting mid-November.
For more Canadian news and updates, like us on Facebook at PlayStationCanada or follow us @PlayStationCA.