Leading video game publisher and developer BANDAI NAMCO Games America Inc. today announced a special Collector's Edition for TALES OF XILLIA 2 exclusively for the PlayStation 3 computer entertainment system, available on August 19, 2014. TALES OF XILLIA 2 follows two brand new protagonists, Ludger Kresnik and Elle Marta, a year after the events of the first game as they search for the Land of Caanan in a beautifully animated epic RPG full of drama and adventure.
The TALES OF XILLIA 2 Collector's Edition will carry a MSRP of $129.99 and comes with a treasure trove of collectable items that will make any TALES OF fan weak in the knees. The collector's edition will include: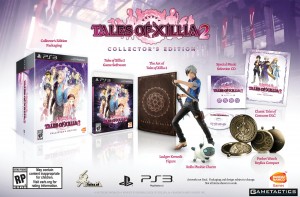 • TALES OF XILLIA 2 software
• Ludger Kresnik figure
• Elle's Pocket Watch replica compact Rollo plush charm
• TALES OF XILLIA 2 music selection CD
• TALES OF XILLIA 2 art book
• Classic TALES OF costume DLC (Yuri Lowell, Emil Castagnier, and Asbel Lhant)

TALES OF XILLIA 2 focuses its story theme around the concept of "choice", which is also expressed heavily in the game's overall gameplay mechanics. Throughout Ludger's journey the player will be able to decide how he reacts to various characters and situations. These choices can change the upcoming events, affect his relationship with his companions and ultimately alter the ending of the story.
Choice also extends to the battle system for TALES OF XILLIA 2 by enhancing the TALES OF series' trademark gameplay. Players will be able to initiate a "Weapon Swap" in real-time during battles while controlling Ludger, allowing him to switch between three main weapons: dual blades, a sledgehammer and dual pistols, allowing for fast and strategic movements as he rushes across the battlefield. Building on the base from TALES OF XILLIA's battle system, the new "Cross Dual Raid Linear Motion Battle System" will let players link to any selectable character in battle to serve as a support character and perform linked artes against targeted enemies. Different party members have different support characteristics and linked artes, allowing players to strategically decide which characters are linked to whom as various battle situations arise.
Players who have a save game file from TALES OF GRACES f or TALES OF XILLIA on their PlayStation 3 will automatically be given exclusive bonus items for use in TALES OF XILLIA 2.
TALES OF XILLIA 2 will be available on August 19, 2014 for the Americas exclusively for the PlayStation 3 system. For more information regarding TALES OF XILLIA 2 and the TALES OF franchise please visit https://www.facebook.com/tales and http://www.bandainamcogames.com.