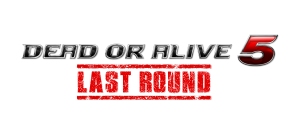 Dead or Alive 5 has gone through quite a few changes since its initial 2012 release. The first updated was Dead or Alive 5+, then that version was ported and further upgraded on PS3 and 360 as Dead or Alive Ultimate, and now, with the latest port job and added features, you have Dead or Alive 5: Last Round. And well, let's just say that if you haven't already bought the game, now would be a good time to do so, as it's the most comprehensive release yet. But early adopters might just want to stick to the PS3 and 360 versions, as there isn't really much new here.

Last Round houses all of the content from Dead or Alive 5, throws in some new costumes and the ability to change hairstyles. It also adds two stages and two new characters in addition to the three DLC characters that were made available for Ultimate. And well, that's pretty much it. I did review Ultimate back when it released, which you can check here. Everything I said about that still applies here. However, since this title has also been ported to the current generation of consoles and the PC, it has received some polish. The game now can now play up to 1080p and in 60 frames on both consoles. The game also uses a new rendering engine that makes the character's look a bit 'softer', which basically makes them look less blocky. It does a good job hiding the fact that the game is using a pretty old graphics engine and that it looks more like something made 2 years ago.
The new characters are pretty interesting to play as and control. However like the DLC characters that were previously released, none of them have any expanded role in the story mode. They are fun to play as well though. Phase-4 has a mix of Kasumi and Ayane's moves. Nyutengu is like Tengu, but faster and less supernatural moves are used. Marie Rose uses Systema and uses plenty of grapple attacks. Raidou and Honoka both feel like improv characters that mimic other fighters. And in the interest of not getting bored of looking at the same costumes over and over again, you can choose from over 300 of them as well as select hairstyles. Players are spoiled for choice, but you'll need to purchase most of them.
It's still a fun game, but other than slightly improved visuals and a better framerate on the current generation of consoles, there's not much here to entice older players. Not even the net-code has improved all that much. The online functionality for the PC version won't be ready until the end of March. So if you are late to the party, now might be a good time to dive in. Otherwise, you might want to make a rain-check for a price drop or sale.
Gameplay
Graphics
Sound
Overall