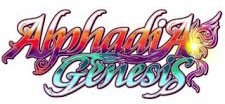 Natsume Inc., a worldwide developer and publisher of family-oriented video games, today reveals the characters behind their upcoming RPG launching in the US and Canada for Nintendo Wii U, Alphadia Genesis. The first game in the Alphadia series to hit consoles in North America, the game is rated E10+ by the ESRB, and will be available exclusively on the Wii U eShop.
"We have been waiting for an opportunity to launch a Wii U title since the system's release in late 2012," said Hiro Maekawa, President and CEO at Natsume. "Alphadia Genesis provided us with a fantastic opportunity to bring our fans an RPG we're sure they're going to love!"
Alphadia Year 1092: Fifteen years have passed since the end of the terrible Energi Wars, where clones were used as weapons. Two kingdoms, after nearly destroying each other and the natural resources of Energi, signed an important peace treaty, and have been co-operative neighbors ever since: Augustine and Archleign, where the story of Alphadia Genesis begins.
Fray is a member of the local guild in the Kingdom of Archleign, and a skilled swordsman; though he's been invited to join the national army, he prefers the freedom of working on his own schedule. He has a younger sister, Aurra. His primary element is Fire.
Read More