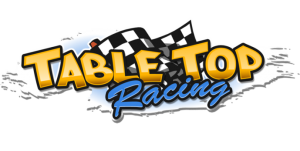 Award winning developer Playrise Digital and Publisher Ripstone announced today that Table Top Racing will be skidding onto the PlayStation Store on 5th August in US and 6th August in Europe, where it will be available to download on PlayStation Vita for £4.99/ €5.99/ $7.99. PS Plus subscribers can also look forward to discounts at launch!
Table Top Racing is a AAA micro combat racer that pits all manner of custom-made, miniaturized cars against one another. Welcome to a world of table top race tracks, over-sized obstacles and glorious power-ups. Table Top Racing may be miniature but don't be fooled by its size! It comes complete with a full championship mode in single player along with quick play and drift modes and over 30 special events. Players can also look forward to full live online multiplayer and play with up to 4 friends online or locally.
The PlayStation Vita game has been improved from grid to chequered flag, making this the definitive version of Table Top Racing. Boasting a silky-smooth 60 FPS, enhanced environments, double the polygon count in the track geometry, double the texture resolution and superior handling; it's not only the best looking version, it's also best played on PlayStation Vita. The Playrise Digital team have also taken full advantage of the Vita's controls and rear touch features, allowing players much improved handling, proper racing controls and a rear touch view… this is powered up micro racing at its best!