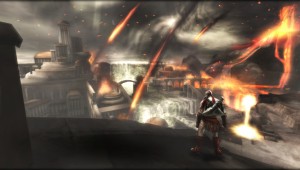 PSP gamers will be quite happy to hear that Sony Computer Entertainment has announced today that it plans a new God of War game for the PlayStation Portable, God of War: Ghost of Sparta will be headed to the PSP sometime this year.
Sony Computer Entertainment America Inc. LLC. (SCEA) announced today plans to release God of War: Ghost of Sparta, the latest installment in the multi-million unit selling franchise, exclusively for the PSP (PlayStationPortable) and PSP (PlayStationPortable) go systems. Developed by Ready At Dawn Studios, the acclaimed team that brought you the best-selling God of War: Chains of Olympus, in collaboration with Sony Computer Entertainment's Worldwide Studios Santa Monica Studio, God of War: Ghost of Sparta will combine intense action, an elaborate new storyline, stunning graphics, and depths of scale never-before-seen on the portable platform.

"Excitement for the God of War franchise is at an all-time high and we're thrilled to continue that momentum with God of War: Ghost of Sparta" said Scott A. Steinberg, vice president, product marketing, SCEA. "This new adventure will showcase Kratos on PSP like never before in an experience that fans and newcomers can enjoy on the go, anytime, anywhere."
Set in the realm of Greek mythology, God of War: Ghost of Sparta is a single-player game that allows players to take on the powerful role of Spartan warrior Kratos. This new adventure picks up after God of War concludes, telling the story of Kratos' ascension to power as the God of War. In his quest to rid himself of the nightmares that haunt him, Kratos must embark on a journey that will reveal the origins of lost worlds, and finally answer long-awaited questions about his dark past. Armed with the deadly chained Blades of Chaos, he will have to overcome armies of mythological monsters, legions of undead soldiers, and amazingly dangerous and brutal landscapes throughout his merciless quest.
Utilizing state-of-the-art visual technologies, the development team has made significant strides to give players a realistic feel that has never been seen before on PSP or any other portable platform. The game showcases higher quality environments and characters, giving an unmistakable realism to Kratos' newest quest. Providing over 25% more gameplay, God of War: Ghost of Sparta will feature fluid, life-like characters, a robust weapon system, new magical powers, weapons and navigational abilities, many more enemies on screen, and a greater number of boss encounters, truly bringing the experience to life, all while on the go.
God of War: Ghost of Sparta is a single-player action-adventure that has an ESRB rating of "RP" for Rating Pending. It will be released later this year in 2010. For more information about the ESRB, visit www.esrb.org.
For more information about the God of War franchise, visit www.GodofWar.com.