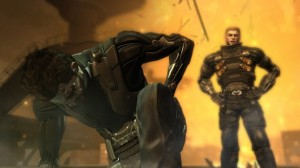 Square Enix, Inc., the publisher of SQUARE ENIX interactive entertainment products in North America and developer Eidos-Montreal are proud to announce that DEUS EX : HUMAN REVOLUTION has "gone gold" and will be available in North American retail stores on August 23, 2011. After over three years in development, DEUS EX: HUMAN REVOLUTION is the exciting debut title release for Eidos-Montreal. The game will be available for the PlayStation 3 computer entertainment system, the Xbox 360 video game and entertainment system from Microsoft and Windows PC, Steam, and OnLive.
"We couldn't be more excited that Deus Ex: Human Revolution has gone gold and will soon be in the hands of expectant gamers," said Stephane D'Astous, general manager of Eidos-Montreal. "As the first release for Eidos-Montreal, it's impossible to express how extremely proud we are of the final product and all of the hard work that went into its creation."
More information on Square Enix, Inc. can be found at http://www.square-enix.com/na.