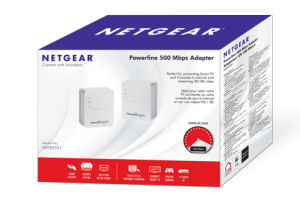 We've all run into the issue of Wi-Fi not reaching that corner of the house or a device that doesn't have Wi-Fi. Gamers have it the worse with bad pings via Wi-Fi as well and with Smart TV's that force you to buy an $80 Wi-Fi adapter that only works with that TV. Powerline Ethernet promised that it could turn any power outlet into a network jack, the first generation ones were slow (well under 10 mbps), then came along the promise of 200 MBPS, and now 500 MBPS. Netgear of course has a Powerline AV500 XAVB5201, but does it live up to the promise of 500 MBPS?
The Netgear Powerline AV500 XAVB5021 kit comes in with two Powerline adapters, two network cables and a driver CD to see how fast your network is and to set the encryption passwords if you own different branded Powerline devices. One of the powerline adapters needs to be hooked up to your internet modem or router and the other one goes into the device. You can also hook up a network switch if you have more than one device. The setup can't be any easier, simply plug in both units into the wall and hold the Security button on the side for 2 seconds on both units. Note that the "one button password set" does not work with other types of Powerline AV500 units, you would need to use the software to set the password for all different brand of the units, just as long as they all support the HomePlug AV2 standard.
Now comes the nitty gritty of the promise of 500MBPS, does it even come close to it? With the two plugged on the same floor in different rooms we achieved about 130 MBPS; from the 2nd floor to the 1st floor it hovered around 80 MBPS and finally a really slow 30 MBPS from the 2nd floor to the basement with the occasional disconnect once a week. Nowhere near the "theoretical" 500 MBPS promised by this standard. Ping times were great well under 3ms most of the time, perfect for that Call of Duty session on your older Xbox 360 that doesn't have Wi-Fi.
If you own a "Smart TV" or a Blu-Ray player that charges extra for Wi-fi, use this instead, you'll have no problems streaming Netflix even at the lowest speed we got at 30 MBPS. None of our consoles tested with it had any problems getting an i.p. address from the router on the 2nd floor, from an Xbox One to a wired adapter on a Wii.
The Netgear Powerline AV500 XAVB5021 is a great buy at around $89 for two, just don't push your luck with the distance all the way to the basement from the 2nd floor.