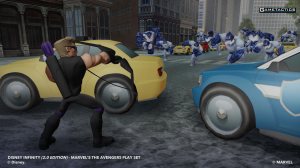 Avalanche Software has brought us a new look at the toys-to-life genre with Disney Infinity. They took a similar approach as Activision's Skylanders by throwing in some very well known Disney characters but decided to take it a step further and introduce Disney Infinity: Marvel Super Heroes (2.0 Edition). As a long time Marvel comics fan, I really had high expectations for this game and maybe they were a little too high. As I do like the toy interaction of the game and the figurines, the game play could have been much better.
The whole setup itself is really well built and does not take up a lot of room. The base is not as bulky and the Skylander game so if you have limited space, it works. The figurines are well built but really cartoony to match the game itself. The starter pack comes with IronMan, Thor and Black Widow. If you want any of the other characters you have to buy them separately. Those include the rest of the Avengers, Guardians of the Galaxy and Spiderman play sets. Yes, that makes this game a little expensive to play and rough on any parent's pocketbook.

As far as the gameplay for this game, it could have been better. The first hour or two of game play of course is engaging and entertaining but they didn't change it much from mission to mission. The Frost giants are all pretty much the same and all of the characters moves are the same with very little variation within the special moves. Most of the game I spent the whole time mashing the same buttons over and over again. Maybe I'm just used to playing games that have special combo attacks and are a little harder to play. This game is so easy to play my two year old can mash the buttons and win in any fight. Even all the villains didn't vary much in look and fighting style. It was like they were all cloned and you were always fighting the same set of enemies.
Even the story line seemed a little too bland for my liking and just seemed to lack in script. Even the cutscenes didn't have much to them. After a while I got bored with the script and just muted it until I had to listen for new instructions on a new mission. I kept waiting to see something new but was gravely disappointed.
The one thing that Avalanche did take their time on was the graphics. The colors were bright and I was not disappointed with how they built their characters. Everything runs smoothly with no hiccups and it's just a very easy game to play. That may be a good thing for the younger generation. I am definitely not disappointed with the depiction of the Marvel characters even though the gameplay could have used some work.
Though the story line game was a bit bland there is one thing that works well for this game and that is the Toy Box 2.0. With this option you can create your own world and make thing a little more interesting whether you are an experienced gamer or a beginner. There are mini games within this option which can extend the game play and make it a little more interesting. The only thing is that most game players might not even take the time to open up this part of the game.
All in all, the game could use some improvements in game play but works just fine for the kids. Being a Marvel game I really had bigger expectations for this game and that could have been a set back on my end. I just don't see being able to play this game over and over without getting bored with it. The basic idea of the whole game is great and maybe Avalanche will take some of the suggestions in a lot of the forums and improve on what they have started.
Gameplay
Graphics
Sound
Overall